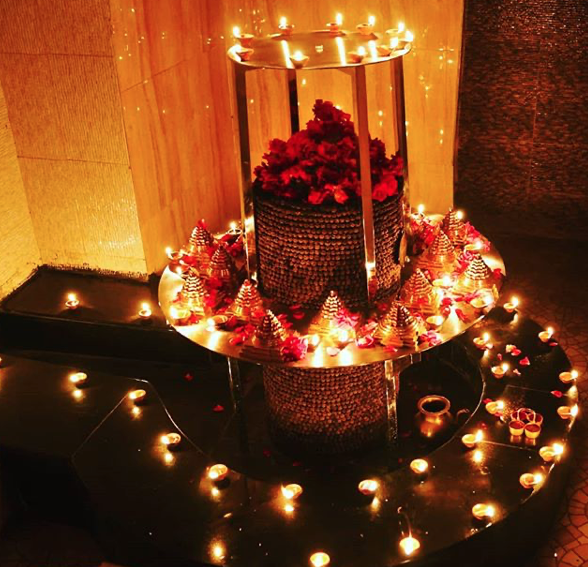 My first Mahashivaratri celebration was a remarkable experience.
A meticulously organized ritual of music and dance honoring Shiva, the Adiguru; prime teacher of yoga.
Being totally foreign to the concept of ritual; I came to the night dressed in white as requested with
absolutely no expectation, doubting that I would last a sleepless night of meditation.
We were encouraged to do a stronger practice of yoga and meditation in the days leading to the
night. What I didn't know at that time was that the more experienced students and teachers were
going full on doing a black fast on that day leading up to the early morning hours and spending most
of the day in meditation. Some later reported reaching states of samadhi which even back then
seemed like an exciting goal to me.
The night itself was full of devotional music, dance and above all a gentle overflow of love that
wrapped everyone. It was almost effortless to stay in this festive spirit until early hours of the
morning while many internal revelations unfolded.
From that night on Mahashivaratri became a date to remember.
On this night the astrological constellation creates an upsurge of energy that amplifies the impact of
any spiritual practice. It is a time to ride this upward wave and celebrate the magnificent creation of
cosmic consciousness; this life we live in.
Mythologically; there are several stories around the significance of Mahashivaratri; which literally
means the Great Night of Shiva; Shiva being the supreme consciousness. One is celebrating the
union of Shiva and Parvati; when Parvati lets go of her ego through her sadhana (spiritual practice)
and reaches union with Shiva. A beautiful symbolism of sadhana as a science of union helping us to
remove the masks and layers we establish in daily life. The unveiling of ego leads us to liberation.
Another is around the boon of Maha Mrityunjaya mantra becoming a powerful vessel for us towards
material and spiritual accomplishment through the persevering sadhana of Sati; one of the many
forms of the divine feminine.
`During the Vigil Night of Shiva, Mahashivaratri, we are brought to the moment of interval between
destruction and regeneration; it symbolizes the night when we must contemplate on that which
watches the growth out of the decay. During Mahashivaratri we have to be alone with our sword,
the Shiva out of us. We have to look behind and before, to see what evil needs eradicating from our
heart, what growth of virtue we need to encourage. Shiva is not only outside of us but within us.
To unite ourselves with the One Self is to recognize the Shiva in us.
—The Theosophical Movement, Volume 72`
How can we make best use of this particularly auspicious and energetically charged time?
– Fasting: From the midnight of 28th of February until the sunrise on the 1st of March a black fast with no
food and water will skyrocket your practice and guide you towards stillness.
– Practice: Intensify whatever practice works for you on this date; even on the days leading to
this date; be it yoga, meditation, chi-gong or whatever helps you to refine your inner
atmosphere. You are very welcome to receive the guidance of our senior teachers
on this. In fact; we offer a free sadhana for Mahashivaratri. More instructions on our facebook group:
– Celebrate: Especially the night of the 28th of February  is dedicated to full on celebration. Try this
big party without any intoxicants other than the joy in your heart; you will love it. You can
tune in to the celebrations at Shivoham Ashram or make you own playlist of Shiva chants to
accompany you that night. Best to share this in a community and now we have virtual ways
of doing that!
OM NAMAH SHIVAYA